nETHERLANDS TULIP MANIA WORKSHOP
Join us for a PRIVATE ACCESS Drone, Photography and Post-processing Workshop 
We love to experience the beauty of springtime and what says Spring more than fields of tulips in bloom?
Join us this April, as our expert local guide and well-known Dutch photographer, Albert Dros, and co-leader, Elia Locardi, take you to some of the best Tulip shooting locations in the Netherlands. During this workshop, Albert and Elia will spend a full day providing on-location Photography and Drone instruction with special access to Tulip Fields that are on private farmland. On day two, they will share their post-processing techniques in the classroom, followed by some additional sunset and blue hour shooting along Amsterdam's beautiful and iconic canals. (See full schedule breakdown below)
PHOTOGRAPH TULIPS OF THE NETHERLANDS IN THIS SPECIAL ACCESS WORKSHOP!
Accommodation:
Not included, suggestions for areas to stay will be provided.
Transportation:
Not included, but will have limited space for those that can't rent a vehicle and can help connect participants wanting to ride share.
Trip type:

Small Group
Small group experience (max 10)
Workshop Length: 2 Days *New Dates*
April 23rd – 24th, 2019
Since the first Workshop Dates Sold Out so quickly, we've added a second session.
Location: Amsterdam and Nearby
This unique workshop is being done in collaboration with the tulip growers at https://polderpride.nl. Their tulip fields are approximately a 1-hour drive from Amsterdam during day one. Day two will be focused in Amsterdam.
Workshop Price: $750 USD (app. €660)
Payment in full is required to reserve your spot.
Register – Netherlands Workshop
Select quantity below, then add it to your cart and finalize your registration and payment.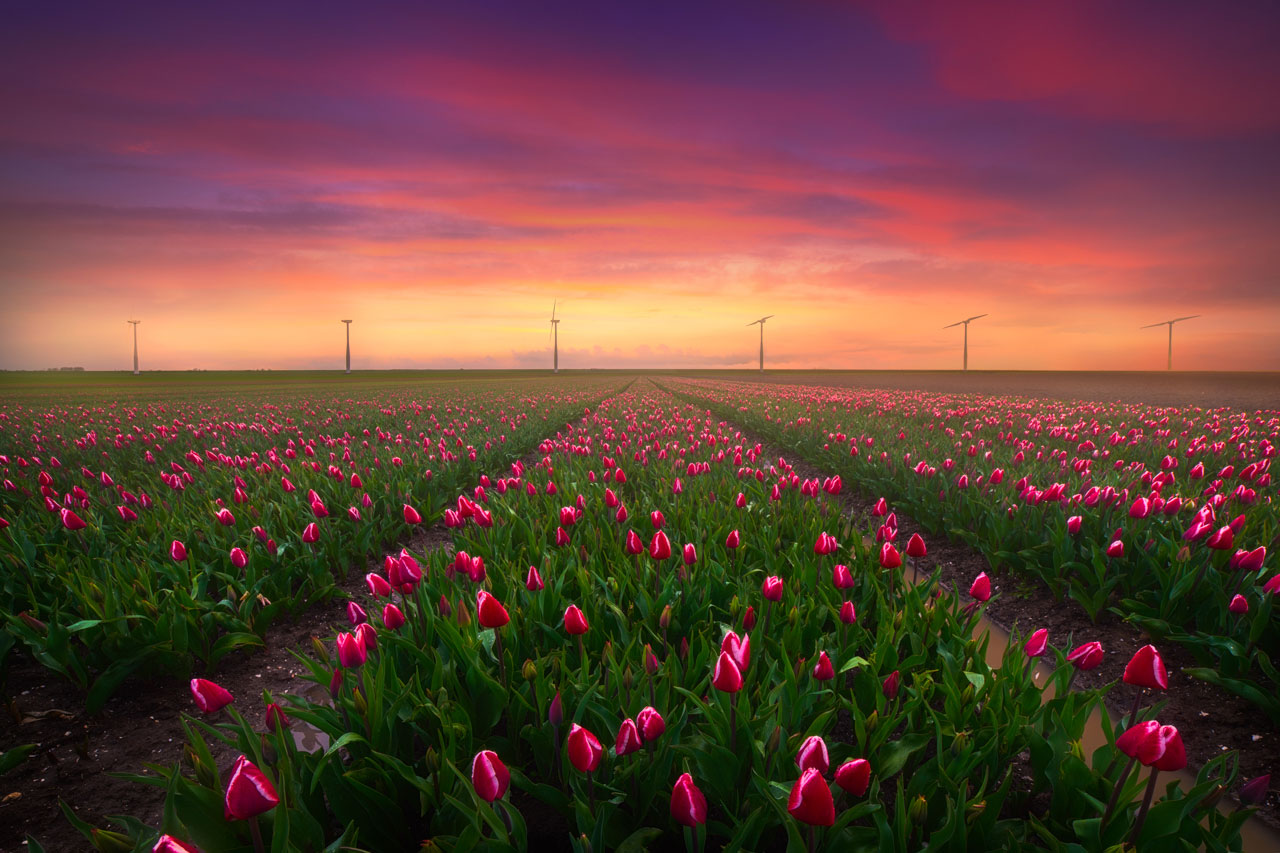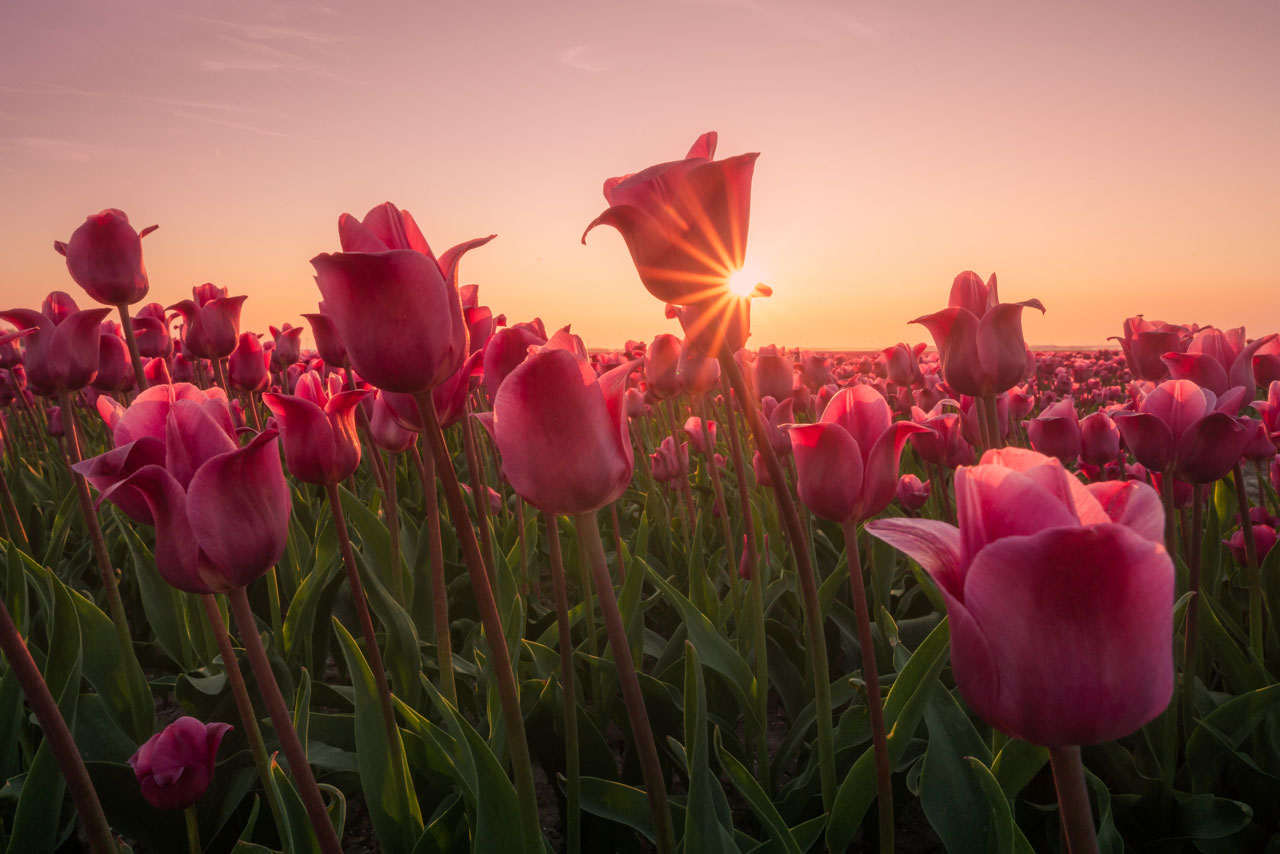 Day 1 – April 23rd, 2019
In the afternoon, we'll meet at the tulip field location where an explanation of in-camera techniques and how to shoot will be covered. For those interested, we will also do a drone workshop, but having a drone is not mandatory. People without a drone can either borrow one or enjoy shooting with a still camera. We will stay at the tulip field to shoot with still cameras all the way through sunset. During this session the tulip grower, Marcel, will tell us all about his flowers. We will be photographing from his private land. If you want to come back to Marcel's land another day to shoot again, you are free to do so.
Day 2 – April 24th, 2019
In the afternoon we will be doing post processing instruction in Amsterdam (for about 4 hours, specifics to be provided before event). Elia and Albert will guide you through their techniques of post processing (beginners to advanced are welcome to join). Participants will learn how to do basic post processing like color and contrast correction, but advanced techniques like blending and focus stacking will also be covered. After that, the participants will have time to process their own photos with the one-on-one guidance from Elia and Albert. After the post processing session, we will go out together to have a fun sunset and blue hour shoot along the Amsterdam Canals.
No lodging or transportation are included in this workshop. 

It is recommended to rent a car for the first day of the workshop so you can easily get to the tulip fields (location TBA, around 40-60 minutes drive from Amsterdam). If you don't have a driver's license or are unable to rent a car, we will bring you with us in the car (limited spots available) or help connect you with participants interested in ride sharing.
PLEASE NOTE: April 27th is Kings Day. This is another reason to register for this event, extend your stay and experience Kings Day in Amsterdam, the biggest party day of the year in the Netherlands.
What's Included and Excluded in the Photo Tour Fee
On-Location Instruction from Pro Photographers and Local Expert Guides
PRIVATE Access to fly Drones and Photograph Tulip Farms nearby Amsterdam both during and after Workshop
Post-processing Instruction and Shoot in Amsterdam
Small Group Experience (Max 10 people)
Flights and Transport during Workshop
Accommodations during Workshop
Suggestions for areas to stay will be provided.
Anything else not specified in the itinerary
Your payment is a firm commitment and will be subject to a cancellation fee, which is why we recommend trip insurance. **This workshop is unique from our other terms and conditions as $450 USD of the payment amount will become NON-REFUNDABLE after Feb. 28th, 2019. Please refer to the Payments, Cancellations, and Refunds section in our terms and conditions to read the full details of our usual policies, aside from this Non-refundable portion of the deposit. Please do not make air travel arrangements until checking with us first.
While these descriptions represent the workshop's planned itinerary, we reserve the right to revise it without notice as we see fit. Details on this page are also subject to change without notice. We reserve the right to cancel if the minimum number of participants is not met. And while we don't anticipate this happening, we reserve the right to adjust the fees for this workshop due to factors outside of our control, such as fluctuations in currency rates, political or governmental action, new applicable taxes, and such related issues. Please do not purchase air travel before confirming with us. Participants are expected to be in fair health and be capable of spending the day walking around the various areas while carrying their own equipment. * Tour leaders subject to change.